Web Design in Perth
Mobile-friendly websites designed for business
EverywhereWebsiteTM - We build fast, affordable, modern, mobile-friendly websites that your customers can find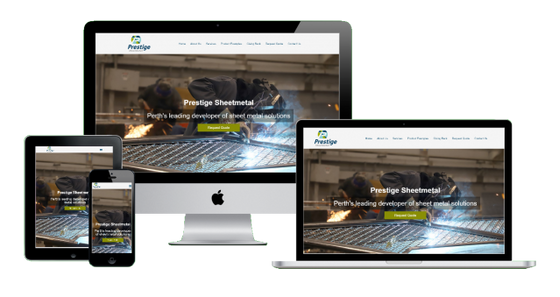 Is your website making the impact that your business deserves?
Your website can often be the first impression prospects and customers will see about your business.
Nothing turns off your customers quicker than a poor website - especially slow and non-responsive on mobile devices.
Professional looking websites build trust in your company's products and services.
Impressive looking websites and great, user-friendly web design are a vital component to your overall digital presence, designed to attract, engage and convert visitors into loyal customers.
Utilising world leading technology, we are able to build fast, mobile friendly websites for your business.
Look professional, on all devices & be found - with an EverywhereWebsite™

Clean, modern design
First impressions count! Your site should be easy to navigate, free of clutter, and offer clear calls to action. It should provide a great user experience, attract more visitors, increase conversions, and ultimately increase business revenues.

Mobile-friendly websites
Consumers shift to mobile has happened. More Google searches now take place on smartphones rather than on desktops or laptops. That's why it's critical that your website be optimised for mobile. We build websites that look great on any device: smartphones, tablets, laptops as well as desktop computers.

Search Engine Optimisation
Advanced organic SEO comes as standard with the web technologies that we use. Additionally, we use proven on-page SEO techniques that help your site rank higher on Google, Bing and other search engines. Long-term SEO success requires commitment and discipline. Ask about our SEO packages for best results.
Powerful, world-leading technology to boost your business
We have partnered with the Locafy Limited group.
Australian owned & built by some of the smartest web minds in Silicon Valley - Locafy has developed a world-leading web building platform that codes websites for the modern digital age: mobile-first!
We use the Locafy platform to create stunning websites to help grow your business.
Our websites feature:


Mobile-friendly design
Responsive web design is the Google-preferred method. We build mobile phone and tablet-friendly websites that look great on any screen size and any device. We future proof your website as new devices hit the market

Google-friendly
Google want users to have the best possible experience. Our fast, mobile-optimised websites do a lot of the heavy lifting. We also give you all the easy to use tools to create fresh, high quality content and integrate social media into your website

Super fast websites
Our websites are among the fastest on the planet, improving SEO and user experience. Google gives extra points for site speed, which help you rank higher in search results. Keep your customers happy and engaged with a super fast site

Easy website management
Our easy-to-use adaptive CMS (Content Management System) helps you manually organise, edit and add fresh content without having any knowledge of website coding or development. If you'd prefer us to help, then please ask about our web maintenance and content packages

Affordable websites for any budget
Invest in your business without the big agencies' mega-price tag. Our valuable, feature packed small business website build packages start from an investment of just $500 (+gst) for the build. We believe in transparent pricing with no lock-in contracts and no hidden fees. We are upfront with all additional costs from our standard packages

Fully-hosted, secure, scalable
Reliable, secure, business-class web hosting that can grow with your needs. Our websites are fully-hosted securely on AWS (Amazon) servers in Sydney. We offer unlimited bandwidth and storage with unparalleled reliability. Your website grows as your business grows
EverywhereWebsiteTM - Professional websites that can be found
Let's set up a time to talk about building you a business website that communicates your brand's values, personality and attitude and all the ways we can help you grow your business online. We'd love to hear about your business.