Social Media Management
Build relationships. Connect. Be where your customers are
Social media, simplified
A strong social presence helps you reach new customers and engage existing ones. Let Everywhere Digital manage your social media accounts, so you can focus on running your business.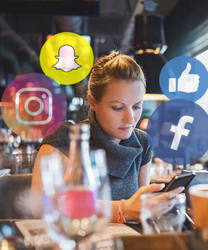 Let Everywhere Digital manage your social media for you

Take back your time
We'll manage your social media, so you have one less task on your to-do list. From launching your social campaigns to checking your analytics, we've got you covered.

Expand your reach
We'll build your brand presence where prospects spend much of their time — Facebook, Instagram, YouTube, Snapchat, Twitter, LinkedIn, and Pinterest.

Engage customers with relevant content
We'll never post just to post. We ensure that your social message is on strategy, unique to your business and compelling to customers.
Choose from our range of different social media services:

Dedicated Social Media Manager
You are assigned a social media manager to manage your social media profiles and campaigns. They will regularly communicate with you, answering any questions you may have and offering expert tips and advice.

Platform Setup
If you haven't already got them up and running, we can setup your social media accounts with appropriate and optimised bios, descriptions and images.

Original Graphic Design and Bespoke Visual Posts
We can use our expert graphic design skills to generate original designs for your cover photos, images and banners and create original visual content for you to use.

Tailored Social Media Strategy
We adopt a detailed research approach to develop a tailor-made strategy that is in line with your broader business goals.

Content Updates
We create and distribute content across your choice of social media channels, including Facebook, Instagram, Twitter or LinkedIn etc.

Comment and SPAM Monitoring
We regularly monitor your channels to reply to anything that requires a response, filter out unwanted SPAM and immediately refer any issues that may need further attention.

Blog Content and Posting
Want to give your followers something valuable but don't have the time? We can set up a blog for you and fill it with original blog content on topics of your choice.

Monthly Content Calendar
If you would like to approve social posts before they are posted, we can provide you with a proposed content calendar each month, so you can clearly see what posts we plan to send and decide if there's anything you want to change.

community Management
We can help you build a community of online followers through identifying and communicating with key influencers and audiences.

Contest Development & Deployment
If you want to run any contests or competitions alongside your marketing campaigns, we can help you integrate them into social media and manage the process from start to finish.

Monthly Reporting and Analytics
Each month you receive a report including key performance metrics so you can see how your channels are doing and monitor your progress. We also evaluate your performance to inform any relevant changes or recommendations.

Avertise on Facebook
You can select Facebook advertising campaign management inclusive in your package or as an optional add on as and when you need it.
Take the first step to get social
Let's set up a time to talk about Social Media Management and all the ways we can help you grow your business online. We'd love to hear about your business.