Social Media Marketing in Perth
Tailored to your business.Targeted to your customers.
Social Media Marketing in Perth
Take advantage of Everywhere Digital's social media services
Increase your business's online presence through your social media channels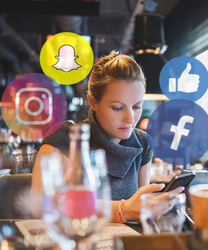 Let Everywhere Digital manage your social media accounts
Reach more people with our Social Media Management services. Build a fan base and increase your brand's visibility. You'll get:
Social media account setup
Weekly posts specifically created for your audience
A dedicated social strategy expert
Monthly reporting
Start with Facebook and add up to 4 additional platforms
Social Media Management plans start at $299/mo.

Let Everywhere Digital advertise your business on Facebook
Reach more customers with Facebook Advertising targeted to your best prospects. You'll get:
Professional, attractive ads your audience will love, on Australia's most popular social networks
Geographic and demographic targeting
A dedicated social strategy expert and regular strategy optimization
Monthly reporting
Optional video advertising
Social Media Advertising plans start at $300/mo.
Why is social media important for your business?

Increased brand exposure
Social media marketing is a key element for success in utilising social media platforms for business growth and brand exposure. These marketing platforms also provide your business with the opportunity to engage with a broad audience of consumers and direct them to your website, products and services.

Generate traffic & leads
Every social media profile you add to your business marketing strategy is a gateway to your website and an opportunity to generate new and ongoing leads then sales.

Business partnerships
Marketing through social media platforms provide an opportunity to attain and develop collaborative opportunities between like-minded businesses whose products and services compliment your own. Creating these strategic alliances allows those within the partnership to reach a further audience whilst also dealing with your competition more efficiently.

Social proof helps search rankings
Social proof helps search rankingsSocial media "shares" act as social proof or votes that boost your search engine rankings. If lots of people share the same product or service in their social media feeds, these votes translate into evidence of quality content for search engines as well as existing or potential customers.

Marketplace insight
Think of your social media forums as an opportunity to engage and communicate directly with your current customers and new potential business opportunities. Utilising social media as a free research tool, you can gain insightful information about your business in various forms such as the demographics of your consumers, top ranking posts, stories and website clicks.

Develop loyal fans
Develop loyal fansIn addition to being able to promote your business' products and services, social media channels provide a space to also communicate directly with followers and potential customers, providing a loyal customer base and following. Coupled with discounts and scheduled sales campaigns, customer service is further improved.
Don't have time to be social? We can help.
Managing social media properly is important to your business and requires consistency to be effective. That said, it can be overwhelming and time consuming and you need to know what you are doing to keep your audience engaged.
We have many years experience managing social media assets for a wide variety of businesses and organisations. We possess in-depth knowledge on all aspects of social media, up-to-date understanding of social media platforms and their rules, have great communications skills and understand the engagement tactics needed for a successful social media presence.
We have experience growing one of our own businesses to over 10,000 followers on Instagram.
Let Everywhere Digital take care of all your social media needs ranging from building professional profiles and business pages, creating all the necessary buzz needed to grow your fan base, drive them to your website and convert into sales.
Increase your visibility and build a fan base by choosing Social Media Management
Find new customers by targeting your best prospects with Facebook Advertising
Quick chat? We'd love to hear about your business.